Nato a Firenze, si dedica alla fotografia da giovanissimo, iniziando, dagli anni Ottanta, a viaggiare con regolarità per realizzare lavori fotografici. Si trasferisce per lunghi periodi con la famiglia in Australia, collaborando con agenzie e redazioni internazionali.
La sua attività artistica si sviluppa in vari progetti, alcuni esposti in mostre in Italia e all'estero e molti dei suoi lavori sono pubblicati su riviste internazionali.
Nel 2000 viene pubblicato da Westzone Publishing il suo lavoro sulla Cripta dei Cappuccini (The Living Dead – Inside the Palermo Crypt)
Nel 2005, insieme al fratello musicista Saverio, fonda il progetto audiovisivo Pastis.
Nel 2015 esce Velatura per Greta edizioni e nel 2016 Depositi edito da Gli Ori di Pistoia.
Vive e lavora a Firenze.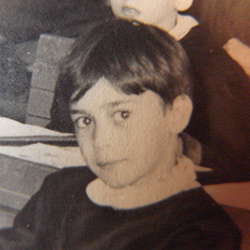 A native of Florence, Marco Lanza begins his career in photography at a very young age, starting in the 1980s, when he travels regularly for shoots. He and his family move to Australia for long periods, where he works for international agencies and publications.
His artistic work develops over the course of several projects, some featuring in exhibitions in Italy and abroad. Many of his works have been published in international magazines.
In 2000, his book The Living Dead: Inside the Palermo Crypt on the Capuchin Catacombs is published by Westzone Publishing.
In 2005, he begins the audio-visual project Pastis alongside his musician brother, Saverio.
In 2015, the book Velatura is published by Greta Edizioni, Milan, and is followed in 2016 by Depositi published by Gli Ori, Pistoia.
He lives and works in Florence.
MIA – Milan Image Art Fair – Milano (2014)

Fotografia Festival Internazionale – Macro – Roma (2013)
Biennale Internazionale Borgo di Montone – Perugia (2013)
Memoriaoblio – Palazzo Saraceni – Bologna (2013)
Fotoconcerto – C2Contemporanea2 – Firenze (2013)
Babele: non pervenuta – Tethys gallery – Firenze (2011)
C'est la vie! Vanités de Pompéi à Damien Hirst – Musèe Maillol – Parigi (2010)
Don't stop me now – Trolley Gallery – Londra (2008)
Pastis – Hlam Design – Milano (2007)
Ich habe einen Traum – Galerie im Einstein – Berlino (2007)
Archeologia e restauro in Toscana – Museo Archeologico Nazionale di Firenze (2006)
La Sfilata – Galleria Zucchi – Milano (2005)
Bravehearts: Men in skirts – Metropolitan Museum of Art – New York (2003)
The Living Dead – Milano Collezioni Uomo – Milano (2002)
Identità Culturali -Villa Vogel – Firenze (2002)
The Living Dead – Westzone Gallery – Londra (2001)
50° Anniversario Vespa – Comune di Pontedera – Pisa (1996)
Agnese – Floralia – Firenze (1994)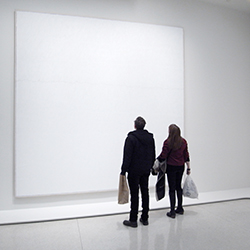 The Men Issue_Jean Paul Gaultier Exhibition (2014) PDF
Italian Textile Sonata, Museo del Tessuto, Prato, frizzifrizzi.it (2013). PDF
Marco Lanza, Instancabile osservatore della realtà, stamptoscana.it (2013). PDF
Marco Lanza, Questo è il mio Sangue, stamptoscana.it (2013). PDF
Pastis, L'arte del dettaglio, rollingstone.it (2010). PDF
C'est la Vie!, Vanités de Pompéi à Damien Hirst, Musée Maillol, Parigi (2010). PDF
Premio Ciampi, L'altrarte, Teatro delle Commedie, Livorno, premiociampilaltrarte.blogspot.it (2009). PDF
"In real life we got something better to do", creativesocialblog.com (2008). PDF
Evento Replay & Sons, Stazione Leopolda, Firenze, fashiondesignlab.com (2008). PDF
The Lanza Brothers, Putting a frame around the world, Creative Review (2008). PDF
Inquadrature, Nelle foto di Marco Lanza la "sfilata" quotidiana della gente comune, affaritaliani.it (2005). PDF
Marco Lanza, La Sfilata, Galleria Zucchi, Milano, exibart.it (2005). PDF
Vanitas, Uomo, Anno 1, No.2, Fuori dal coro (2001). PDF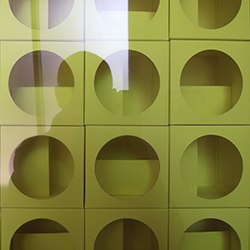 I fratelli Marco e Saverio Lanza hanno cominciato a lavorare insieme nel 2005: entrambi stavano già seguendo temi comuni nei loro lavori e percorsi individuali.
Pastis è il nome che hanno dato a una serie di loro realizzazioni, visive e musicali, che condividono lo stesso progetto di inquadrare diverse realtà per creare nuove forme, come in una sorta di rigenerazione.
Un modo di stilizzare e trasfigurare la realtà, senza sceneggiature o unità di produzione, curando personalmente tutto ma per restare il più invisibili possibile senza alterare le riprese, i luoghi e le persone.
[…] I clip sono una fusione inscindibile di immagini, suoni e musica. Non sono immagini sonorizzate. Questa è la caratteristica di Pastis. […] Creative Review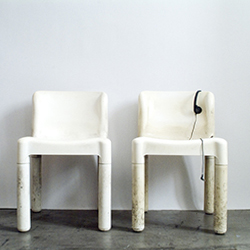 Brothers Marco and Saverio Lanza begin working together in 2005, having pursued in their own right and in their respective work a number of themes for which that they have in common.
Pastis is the name given to a series of their visual and musical creations, which share the same aim of framing various realities to create new forms, as if to regenerate them.
It is a way to outline and transfigure reality, without scripts or production units. They do everything themselves, not least so they can remain as invisible as possible, without altering the sequences shot, the places or the people.
[…] The film clips are an indissoluble blend of images, sounds and music. They are not images with an added soundtrack. This is what characterises Pastis. […] Creative Review